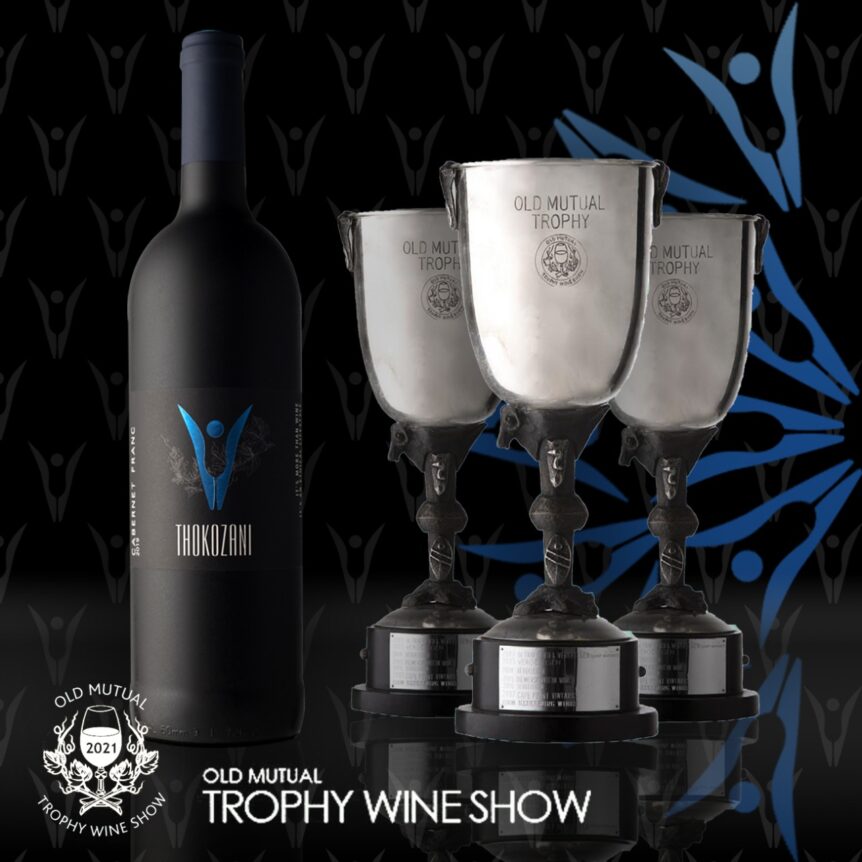 TRIPLE TROPHY ELATION FOR THOKOZANI'S MAIDEN VINTAGE CABERNET FRANC
'I am totally stunned!'
This is all that LAUREN HULSMAN, Diemersfontein's assistant winemaker for the past 10 years, could say when it was announced that the first wine she ever made solo, the Thokozani Cabernet Franc 2019, won no less than three trophies at the Old Mutual Trophy Wine show 2021.
Following the first announcement by Michael Fridjohn, chairman of the show, and Dan Nicholl from Dan Really Likes Wine, that the wine took the trophy for the best Cabernet Franc, we were totally overjoyed. Then came the next announcement for the winner of the trophy for the Discovery of the Show and Best Value Gold medallist, and this was when the jumping, screaming and cartwheels started!
Minutes later it was time for the big winners to be announced, and we were all equally blown away when the Thokozani Cabernet Franc 2019 received the trophy for the Best Red Wine Overall.
'This is another testament to the quality of wines produced by Thokozani, (previously the Thokozani SMV was also awarded a platinum medal at the Michelangelo International Wine Awards) the brilliant people associated with the brand, and the positive attitude in which every endeavour gets tackled at Diemersfontein. We are beyond proud of Lauren,' stated Denise Stubbs, MD of Thokozani Winelands Investments. This is a very special feather in Thokozani's cap for 2021. Besides the wine awards, this is a special landmark year for Thokozani when it acquired a majority shareholding in the Diemersfontein Wine brand earlier this year – giving birth to the slogan, 'The people that work the land, own the brand.'
It all still feels very surreal, but as this wine also won the category for Other Red Cultivars at the National Wine Challenge earlier this year, we knew that it was always destined for greatness.
Not only are we celebrating as a wine estate, but also as a wine region. Three Wellington estates were awarded with trophies and all three were also given a spot on the Top 10 producers list at the show. A huge congratulations to neighbours Dunstone and Bosman Family vineyards on their achievements as well.
Together with the likes of the Veritas awards, the Old Mutual Trophy Wine show awards is one of the most sought-after accolades in South Africa. Since its inception in 2002, this show has been a beacon for consumers and trade alike, in identifying the best wines in the country.
Stocks of the Thokozani Cabernet Franc are very limited and is exclusively available from the estate and via our e-store, www.diemersfontein.co.za/shop . Only 2 bottles per person and only until stock lasts.