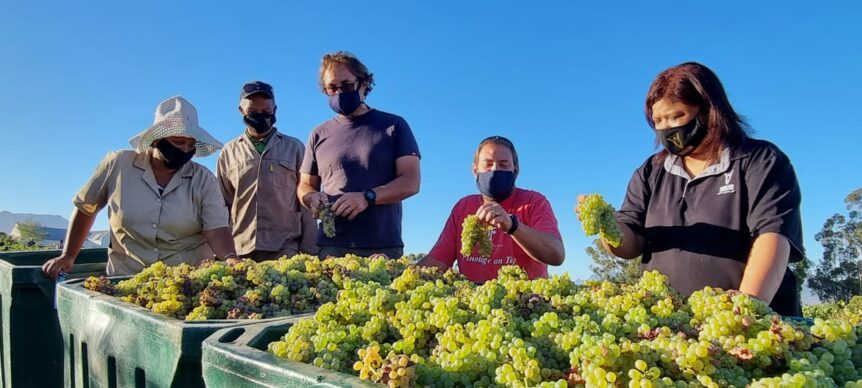 A Harvest 2021 update from winemaker, Francois Roode.
Due to the COVID 19 pandemic, 2020 was a year that no one will ever forget. The same goes for the 2021 grape harvest for Wellington and Diemersfontein!
Harvest time in Wellington is fast paced. It starts off early January, with extremely hot weather, which in turn gives optimal sugars in the grapes for harvesting. This year however, started off with hot weather in January and turned to a mild to warm February. Although the cooler weather was welcomed by everyone in the region, it lead to our harvest starting three weeks later than normal.
This was also a little blessing in disguise, as it gave us more time to plan, with cellars that was still full from last year, because of the various alcohol bans during 2020.
The saying is that the first rain of the season falls on Easter weekend; well we got blessed this year, as we received our first rain early March already. A full month before the Easter break.
Now that is farm life for you, each year a mystery to unfold as the weeks goes by and we welcome this rain to irrigate our vineyards and fill our dams.
The grapes are in good condition, great flavours when tasting and there are a few outstanding tanks developing.
Lauren is at it again this year with her Cabernet Franc. The grapes were picked early last week and currently they are busy soaking in the tank and getting ready to ferment. We are all looking forward to see what she will be doing with this second vintage.
Here's some interesting news, our oldest vineyard, a 35 year old Chenin blanc block, qualified this year to be certified as a heritage vineyard. Watch this space!
The popularity of our Rosé seems to take us by surprise every year. Annually we increase the volume to ensure no out of stock situations, and every year it still seems to happen. A rather exciting problem to have. We are sticking to our recipe of Grenache, Mourvedré and Cinsault as blending components for the Rosé, as it seems like a winning combination if we look at the growth of this wine over the past few years. It's so much fun to make this wine as well, as it's incredible to see how each tank turns a different shade of pink as the time goes on, a rather colourful business.
By now, us winemakers would've been off on a well-deserved rest for a week or two, but as we reminisce on holidays of previous years, we are also preparing to harvest our last cultivars, Cabernet Sauvignon, Petit Verdot and Roobernet in the next two weeks. So holding thumbs that we will be able to put our feet up with everyone else over Easter weekend.
Till next time,
Francois