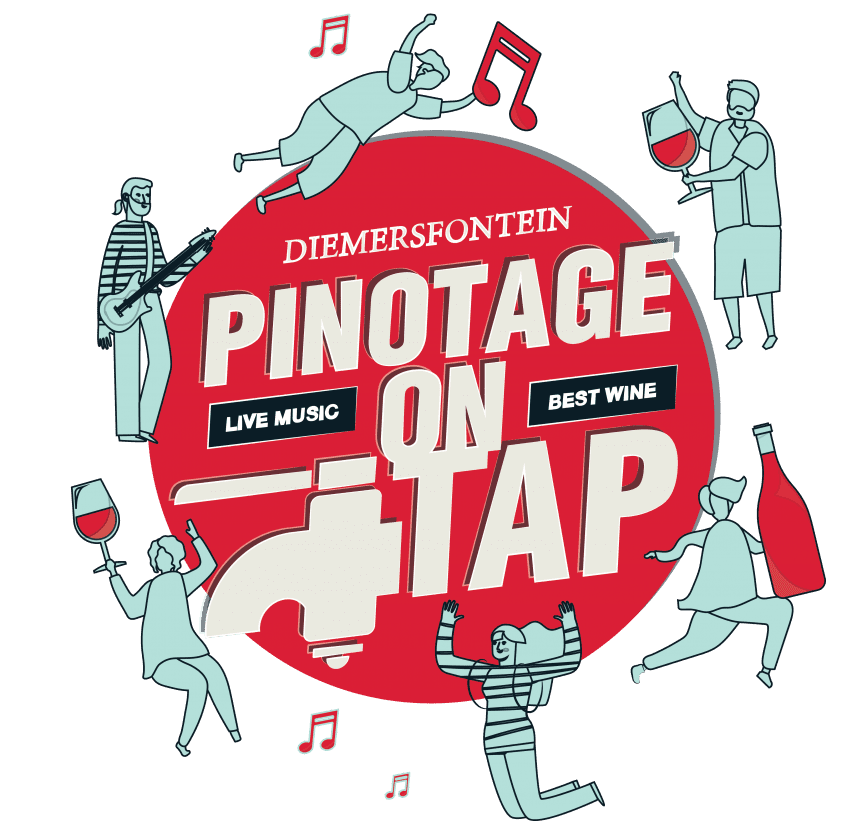 PINOTAGE ON TAP 2019 – HERE WE GO AGAIN
Diemersfontein Wine Estate (Wellington) kicked off their very first "Pinotage On Tap" party some 15 years ago. What began as a small gathering of wine-enthusiast fans, celebrating the creation of the famous (and ORIGINAL) Coffee Chocolate Pinotage (produced by Diemersfontein) indulging in a single barrel of the wine between them, with some light music in the background, has since turned into a colossal brand name – with a reputation and following to match!
Pinotage On Tap events, also fondly referred to as "POT" by fans, are all about celebrating the new vintage of the highly enjoyed Coffee Chocolate Pinotage. Once referred to as "The People's Pinotage" by Niel Pendock, this event brand name has sealed its place on the annual South African wine event calendar and has certainly claimed the right to its accomplished fame.
With this in mind – and especially if you've never been to a "POT Party" before, you might want to take note of their roadshow of event dates for 2019!
As tradition holds firm, there will again be four events held nationally, all with equal pulling-power and impressive offerings we might add. The dates are as follows: Durban will snip the ribbon to the first of this year's events, on 27 July at the iconic foresty-hotspot, The Litchi Orchard in Salt Rock. Thereafter the POT crew will move on to Gauteng, where fans can look forward to their annual Pino fix at the new event venue, to be hosted at Leriba Hotel in Centurion on the 27th of August 2019. From there the chocolatey-vino organisers will return home to host the mother of all events on home soil, on the farm, at Diemersfontein Wine Estate on the 28th of September. The final event for the year, as has become custom, will be held in Clarens, on 2 November 2019 at the pristine St. Fort Guesthouse.
Guests (and the mass of regular die-hard fans) attending any of these events this year can once again expect a wine festival that has undoubtedly established a unique offering of spoils and top-notch entertainment. Endless Pinotage, (the Original Coffee Chocolate one) – as the name suggests, will literally be flowing from the barrel taps, leading live local bands, (because they believe in supporting local), an assortment of delectable food offerings, wine pairings, games, surprises and simply the best wine festival experience ever – is the order of the day!
Each event offers an array of treats and entertainment. Games and on-the-day and competitions are always an added highlight and classy wine-tasting workshops, in collaboration with various other brands add another dimension to the day. When it comes to wining-down, everyone gets to enjoy a good view of the bands and based on the history of these gigs, guests may well be surprised by an additional pop-up band!
Pinotage On Tap has earned its title on the list of top South African wine events – a fact strongly supported by their impressive following of fans and the consequential social media buzz – that goes on year-round! This event was also awarded the title of "Best Wine Event in the World" by Drinks International in 2014 – and continues with uninterrupted consistency to maintain this globally recognised level of event perfection!
If you are interested in following the updates and newsflashes on these events, be sure to follow their page on Facebook at Pinotage On Tap 2019, and also bookmark the Diemersfontein Wines event website page at www.diemersfontein.co.za. Tickets are R295 per person and include your welcome gift, endless Pinotage wine on tap, live music, spoils, freebies and numerous other surprises on the day! Tickets will be available online soon – watch out for the announcement of ticket sales opening on Facebook.