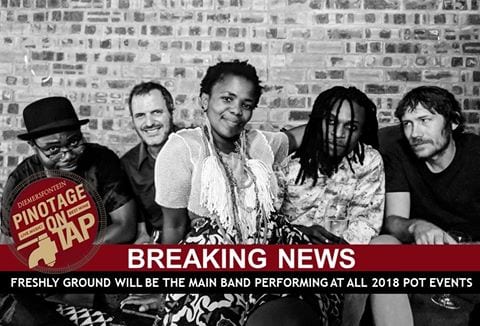 PINOTAGE ON TAP 2018: BIGGER AND BETTER!
Have you seen the news on our social media pages yet? Well, if not… two things: Go and follow our Diemersfontein and Pinotage On Tap 2018 Facebook pages right now! – and then read on. (otherwise you're likely to hear anything and everything else – only AFTER we've said it there first.) Look at Sky News, BBC, CNN, they all do the same thing – social media first, then everywhere else.
But back to the point, we are ecstatic to announce that this year we will be presenting one of South Africa's hottest bands to feature as our main performance band for all our 2018 Pinotage On Tap events – and they are none other than the internationally-popular and brilliantly entertaining group, Freshly Ground!! (Some of our longest-standing fans will remember that Freshly Ground (then still up and coming) played at one of our early events, some 12 years ago!) Can you imagine the electricity in the crowd for this come-back?! It's going to be one for the record books, take our word for it.
Our POT event dates are also public knowledge: Durban The Litchi Orchard – 28 July, Jo'burg, Casalinga – 18 August, Cape Town, Diemersfontein Wine Estate – 1 September & Clarens. St.Fort Guest House – 3 November.