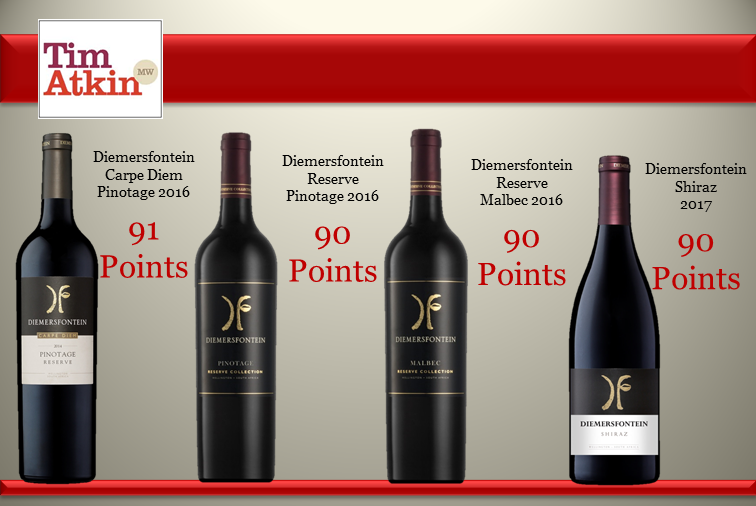 OUR WINES ARE ENJOYING THE LIMELIGHT!
We don't mean to brag – (as it's really not in our nature) but since you are the people that drink our wines and support our brand, we'd love to share with you our achievements.
Tim Atkin is no small name in world of wine – in fact, he is possibly one of the most highly regarded palates in the industry – globally! Therefore, we were beyond thrilled with the latest feedback we received from him on evaluating and scoring some of our wines.
About our Carpe Diem Pinotage (2016), Tim had this to say: "Pinotage may not be everyone's way of "seizing the day" but this is a very smart expression of the Cape's near native variety. Rich, smooth and chocolatey, it has the concentration to carry its 70% new oak". Scoring 91 points!
Here are the results of how the rest of our wines fared on Tim's scoresheet:
Diemersfontein Carpe Diem Malbec 2016, 88 points, Diemersfontein Malbec Reserve 2016, 90 points, Diemersfontein Pinotage Reserve 2016, 90 points, Diemersfontein Shiraz 2017, 90 points and Diemersfontein Summers Lease 2016, 87 points. Thokozani Ovation Cabernet Sauvignon, Merlot 2016, 87 points, Thokozani Ovation Merlot 2016, 86 points, Thokozani Ovation Pinotage 2015, 87 points, Thokozani Ovation Sauvignon Blanc 2017, 86 points, Thokozani Ovation Spumante 2017, 84 points and Thokozani SMV 2017, 87 points.
About our Diemersfontein Malbec Reserve (2016) Tim said: "With rising prices in Argentina, Malbec from South Africa is increasingly popular, especially from Wellington. This French-oaked example has classic violet and blackberry notes with supple palate-caressing tannins." (Cheers to that!)
Moving on to other awards. We were also delighted with our achievements at this years' Vitis Vinifera Awards where we received the following results:
Diemersfontein Chenin Blanc 2018, Gold,
Diemersfontein Sauvignon Blanc 2018, Gold
Diemersfontein Rosé 2018, Gold
Diemersfontein Pinotage 2017, Gold
Diemersfontein Ovation Merlot 2017, Gold
Diemersfontein Cabernet Sauvignon Reserve 2016, Double Gold
Diemersfontein Harlequin 2017, Gold
Thokozani SMV 2017, Gold
At the recent Quest for the Best Wine Awards our Diemersfontein Shiraz 2017 was awarded among the TOP 12 wines from the Wellington region! Panel judge and owner of Ultra liquors, Mark Norrish (another big name in the wine judging realms) said "I've never tasted so many fantastic wines at one single setting." Now that is certainly saying something for the wines of our region!
Moving on, the year is by no means over, so brace yourself for many more exciting things to come! Please also keep an eye on our Facebook page – where we'll keep you updated on upcoming events, special offers, accommodation packages, year-end parties, wine promotions, restaurant specials, tasting room delights, and much, much more!