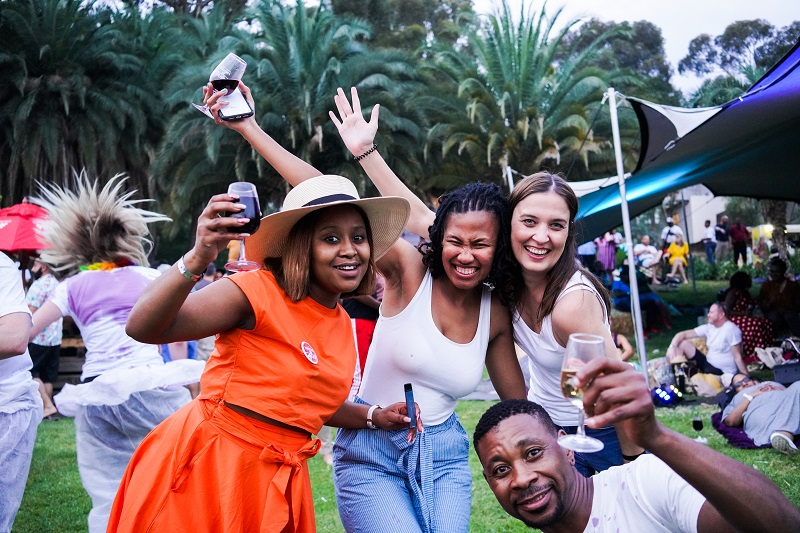 Nothing beats Pinotage on Tap on home ground
The famous annual Pinotage On Tap (aka POT) wine events held by Diemersfontein Wine Estate are known to never disappoint, and consistent to this reputation, the Cape Town leg of the event, held on the Diemersfontein farm on 28 September 2019 certainly held up to all expectation!
Every year this popular event is held in four locations nationally, including Durban, Gauteng, Cape Town and Clarens, making it the only South African single estate wine event that does this. This year marked the 15th anniversary of the widely followed event and sees thousands of fans conglomerate at their favourite festival – in support of this uniquely South African cultivar, Pinotage!
To regular guests of this vinous celebration, the Cape Town event definitely sufficed their expectations, with its signature style of Pinotage – literally flowing from the barrel taps, tremendous food traders, top-notch live local music bands and the best wine festival experience ever! To newcomers, it was a party they'll never forget, as the generous combination of offerings at this festival are completely unique to other wine events.
This year POT Cape Town featured a collection of top local musicians, including Bottomless Coffee, Amy Jones and Wellingtons' very own favourite band, Newton & Co. The multiple band music show saw fans dancing in celebration from start to finish, whilst enjoying their visit to the magnificent wine estate, labelled the home of the Original Coffee Chocolate Pinotage! As tradition holds to these events, there is always a surprise in store in terms of music performances, and this year fans where blown away by the performances of a group of incredibly talented staff members who happen to work at Diemersfontein! Akona Khanya Daniso (receptionist at Diemersfontein and runner up at the 2019 Agri's Got Talent competition) sang a few solo songs and literally had the entire field of festival goers cheering and dancing in absolute awe! Thereafter, a group performance by some of the cellar and hospitality team members continued to enthral the crowds! – safe to say, no one saw that coming!
The event was a magnificent success – in spite of the hot weather, since plenty of shade, entertainment and refreshments kept the party on their feet. Another exciting element that is possibly synonymous with a sticky-mess, but a highly regarded must, are the giant chocolate fountains, served with mountains of strawberries – always a highlight at this event – albeit only for those who don't mind getting dribbled in chocolate!
The last leg of this roadshow of events for 2019 will take place in Clarens on the 2nd of November. Fans are reminded to get their tickets in time – via Quiket – as this event is known to sell out in advance.
Pinotage On Tap is a unique brand and event founded and owned exclusively by Diemersfontein Wine Estate, Wellington.