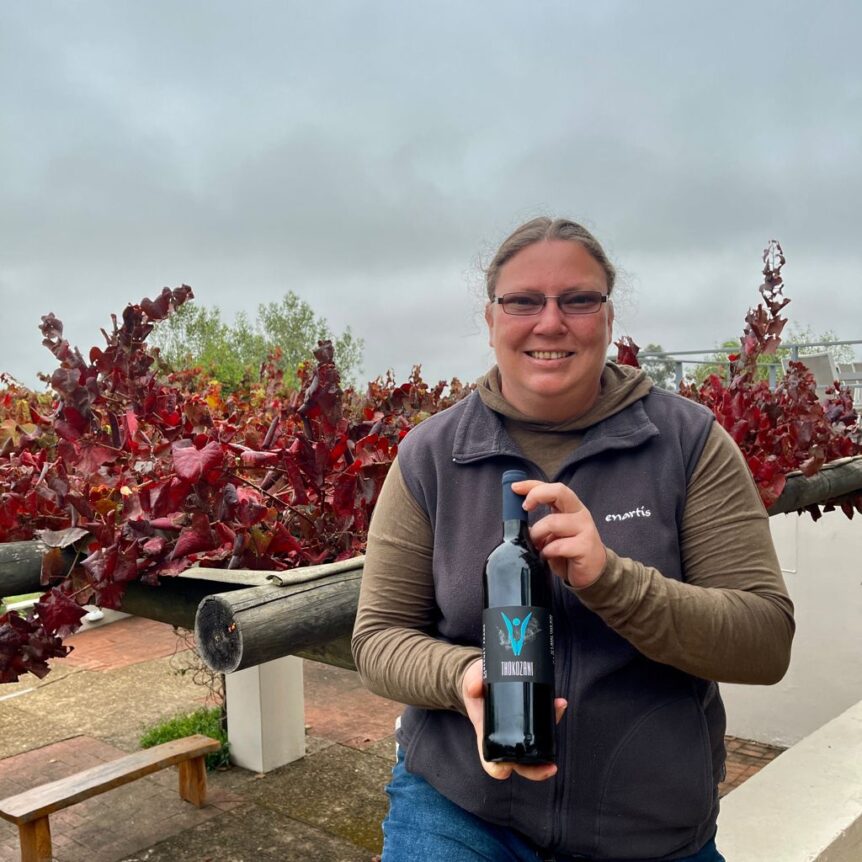 NEW KID ON THE BLOCK – THOKOZANI CABERNET FRANC TAKES THE CROWN FOR 'OTHER RED CULTIVAR' AT NATIONAL WINE CHALLENGE 2021
It's with enormous pride that we can announce that our newly released Thokozani Cabernet Franc 2019 took top honours in the Other Red Cultivar category at the 2021 National Wine Challenge. Not only did it receive this Grand Cru medal, but also a Double platinum award as well as a spot on the Top 100 list at the competition.
What amazing luck to have the big news of Thokozani's acquisition of majority shares in our Diemersfontein's Wine Brand, accompanied by this wonderful endorsement of the quality of Thokozani Wines.
Its big sister the Thokozani SMV 2019 was not far behind and brought home a double gold medal. The honour of a Double Gold medal was also bestowed on our Diemersfontein Carpe Diem Malbec 2019 (winner of the Grand Cru – Best in Class medal for the same category in 2019) and the Diemersfontein Shiraz 2019.
The grapes for the Thokozani Cabernet Franc comes from a very small block on the farm in Wellington and was released only a couple of months ago as the perfect partner to the Thokozani SMV, in the range owned by the staff of Diemersfontein.
The Thokozani Cabernet Franc was also assistant winemaker, Lauren Hulsman's first time flying solo since she started on the estate more than 10 years ago. "We are honoured to have achieved a Grand Cru 'Best in Class' award on a brand new product and a niche varietal at that. This award confirms the hard work and dedication from grape to glass of a phenomenal diverse team. We focus on quality and consistency in all the wines that we produce for Diemersfontein and Thokozani and these awards just reaffirm our determination to consistently strive for top quality wines going forward." states Lauren.
The joyous smiles of happiness are everywhere on the estate today, as we raise a glass of the award-winning Thokozani Cabernet Franc 2019 and celebrate the success of the Thokozani brand and the first award of many for winemaker, Lauren Hulsman.