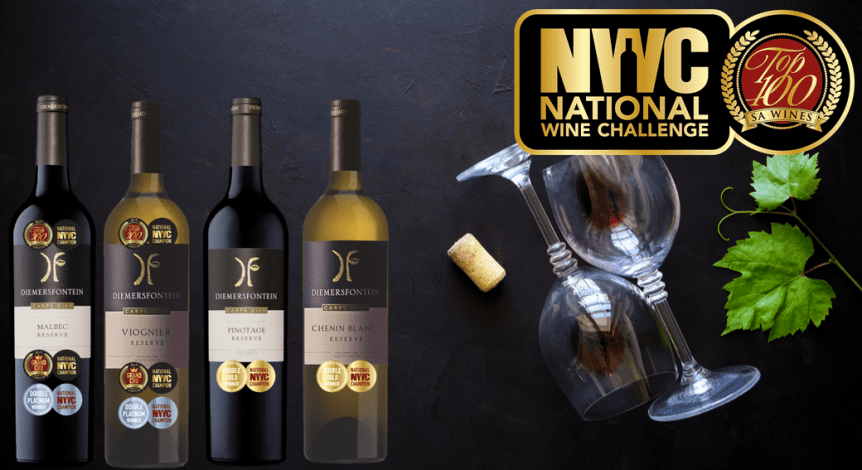 NATIONAL WINE CHALLENGE DELIGHT FOR OUR CARPE DIEM WINES
The National Wine Challenge, incorporating Top 100 SA Wines, the premier fine-wine-only wine competition in SA, launched the industries most credible and popular 2019 winning wines results at Spier Wine Estate in Stellenbosch on Thursday, 9 May 2019.
After great success at the 2018 competition, where our Diemersfontein Carpe Diem Malbec 2016 received a spot in the Top 100 wines in South Africa as well as the Grand Cru award for best wine in class, we decided to enter all four of our Diemersfontein Carpe Diem wines this year and we are delighted that we did
Our Diemersfontein Carpe Diem Malbec 2017 followed in the footsteps of the 2016 vintage by taking a top spot in the Top 100, a Double Platinum award as well as the Grand Cru first place award for best wine in class. This year though this loved Malbec wasn't the only wine that was bestowed the honour of these awards, but our Diemersfontein Carpe Diem Viognier 2018 took home the exact same awards!
The other two wines in the Carpe Diem stable, the much loved Diemersfontein Carpe Diem Pinotage 2017 as well as the Diemersfontein Carpe Diem Chenin Blanc 2018, both walked away with very shiny double gold awards.
Francois Roode, our winemaker at the following to say about this incredible achievement:
"We are very happy to have received the Grand Cru Best in class awards for both the Diemersfontein Carpe Diem Malbec 2017 and – Viognier 2018, second time for the Malbec. It shows that we are not just a predominant Pinotage producer, but we are receiving results for hard work on varietals other than Pinotage that suits our terroir.
We are also honoured to have received Double Gold awards for our Diemersfontein Carpe Diem Pinotage 2017 and – Chenin blanc 2018. These two well-known South African varietals is close to our hearts and were made with passion from our 34 year old Chenin blanc vines, partially fermented in oak barrels. The Pinotage from bush vine blocks right at the top of the farm and adjacent trellised vineyard, they have the best view on the farm overlooking the valley.