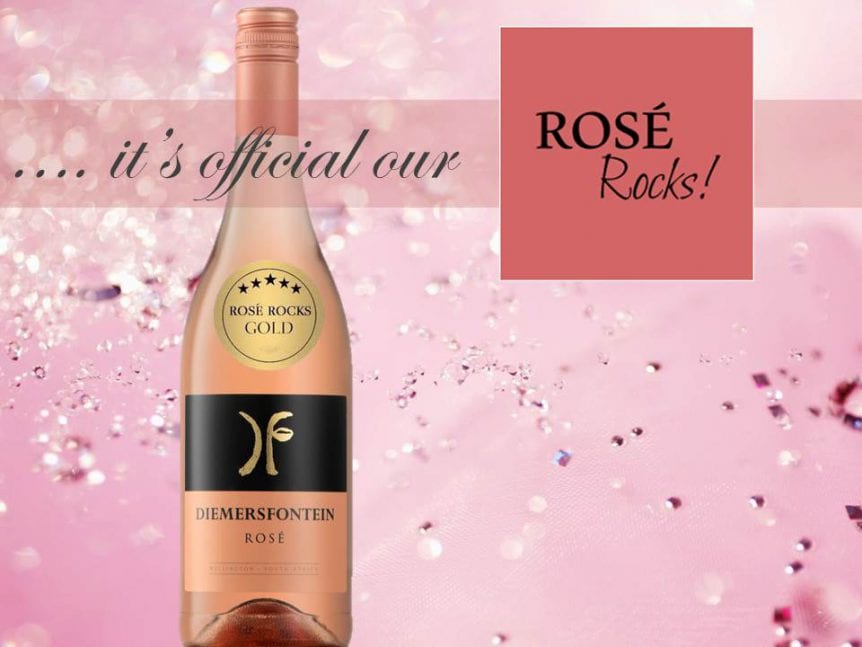 IT'S OFFICIAL…OUR ROSÉ ROCKS!!
It used to be a glass (…ok, ok, bottle) of red wine that calmed the nerves and excited the senses after a long day at work, but in March 2017 this changed forever. After tasting this thrilling, exhilarating and somewhat inspiring rosé, my red wine have been collecting a layer of dust at the back of the wine cabinet. I guess this is why this award got me, and everyone else at Diemersfontein, feeling like we are floating on marshmallows and candy floss. All of this within two weeks of receiving an ABSA Top 10 Pinotage award for our Diemersfontein Carpe Diem Pinotage 2015 and a Novare Terroir award for the Diemersfontein Carpe Diem Malbec 2015.
Rosé Rocks!' is South Africa's first dedicated rosé wine competition which seeks to recognise excellence in rosé winemaking and promote the South African Rosé category and we are very proud to announce that the judging panel, headed up by Allan Mullins, awarded our Diemersfontein Rosé 2016 a gold medal this year.
This exemplary blend of Mourvèdre and Grenache boasts with a lively peach colour and soft tones of raspberry , strawberry and candy floss. Its ample body and exuberant aroma make it a notable and exciting combination, especially when enjoyed with grilled fish, camembert, brie, paella, braaied chicken, light salads with strawberries, light pasta dishes, goats cheese. Wait, I am getting carried away as I literally have this wine with everything I eat and at every occasion that calls for a bit of an alcoholic beverage, but my favourite fusion with this wine will always be sushi.
Go on, order your bottle now so you can understand what all the 'kid in a candy store' excitement is about. You will find these bottles of happiness at our tasting room in Wellington, limited retail outlets or online by visiting our shop.