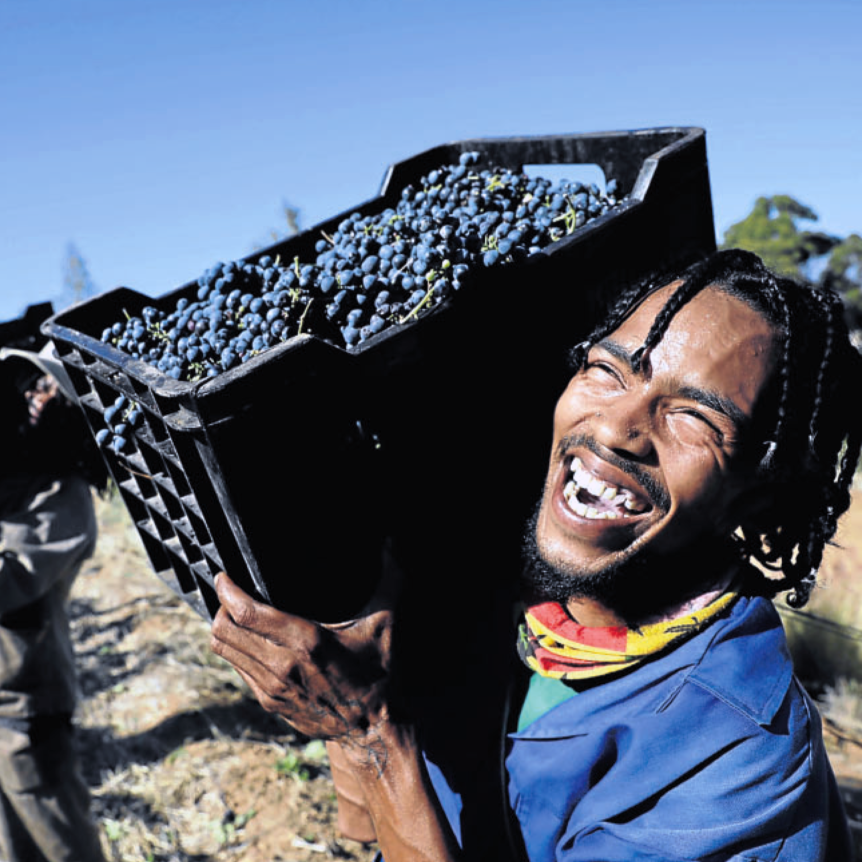 FRUITS OF LABOUR PAY OFF ON WINE FARM
Woolies scion sets up a workers' deal that works
_______
by Bobby Jordan
The Sonnenberg family shook up the high street when they founded Woolworths. Almost a century later they are at it again, this time in the Cape Winelands where the heir to the family farm has signed a pioneering deal with his workers. 
Whereas his retail forebears pushed a feel-good shopping experience, David Sonnenberg, from Diemersfontein farm near Wellington, has supplied a feel-good transformation model based partly on his training as clinical psychologist.
Sonnenberg says the formulaic approach favoured by the government has reached its sell-by date.
At Diemersfontein farmworkers are now in charge, owning the majority stake in the successful wine label, the winery and a marketing infrastructure. They also own a guest house, fully paid off, and are exporting Pinotage to France.
But also like his forebears, Sonnenberg is not in the business of giving things away. The workers bought their stake in the business by using their own guest house as collateral. Staff use their assets held in an empowerment entity called Thokozani, as collateral, with three years to pay back the loan. Sonnenberg has negotiated a friendly deal, but he doesn't believe in handouts.
The Diemersfontein deal differs from the multitude of failed farmworker empowerment schemes in two other ways: it is not just for black staff, the government has helped with limited grants, but instead of buying the land, staff are buying the crown jewel – the Diemersfontein label. 
Sonnenberg, son of Woolworths co-founder Richard Sonnenberg, worked overseas for 20 years as a psychologist before returning home to put his skills to good use. He built the Diemersfontein brand on a farm originally bought in 1942 by his grandfather Max Sonnenberg, also a Woolworths co-founder.
Over the years the farm grew from a family retreat into a business encompassing the winery, a guest house, conferencing, events and property development. "I stayed for 20 years overseas but my heartstrings were always here," Sonnenberg said this week. "It started off with a lot of cultural meeting and inter-community meaning for me. When I got to the more serious social-thinking phase, I was keen to put my imprint on it."
His success is largely thanks to manager Denise Stubbs, who grew up in the nearby wine-farming area of Pniel. Stubbs moved to Diemersfontein to head the staff empowerment company, Thokozani, which Sonnenberg and his wife, Sue, initiated upon their return to SA. With the purchase of the Diemersfontein label, Thokozani is moving into the driving seat.
The Sonnenbergs still live in the farm's manor house. It has a book-lined study with family portraits, and a striking photograph of a pensive Nelson Mandela.
Stubbs said she felt a responsibility to uplift her community in light of her growing up amid the "dop system", the name given to the practice of substituting liquor for cash when compensating farmworkers.
"I experienced the dop system, so why would I choose the wine industry? Here I get the opportunity to plough back in a project for my community," she said.
"I had no clue about equity management, or agriculture legislation – it was all very complex," Stubbs said.
She said she was equally nonplussed by the various iterations of government land reform, most of which seemed doomed.
"I said to David that there are so many different schemes, so please let us see what we can do on the farm ourselves.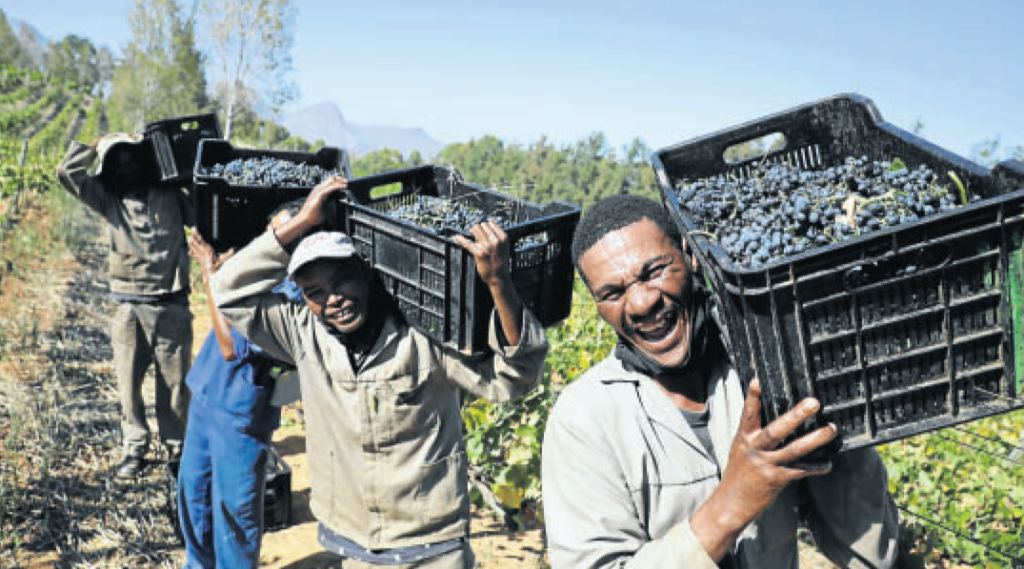 "He said: 'Denise, I have news for you – I am not going to give you anything for nothing."
The two then set about forging a business relationship that involved mentorship leading to their own home-grown model with an empowerment entity set up to mirror the parent's business… then absorb it.
Sonnenberg said his approach was informed partly by his experience in psychotherapy.
"Some of it has to do with understanding what people are going through when they are given new responsibilities, or are fighting for themselves to be treated better. That's what perhaps differentiates us. We've done some reflection about what it means to go through attitudinal shifts. We articulate that."
Stubbs said the immediate challenge was to navigate the impact of Covid-19 on the tourism and wine industries, eased by Diemersfontein's growing online sales. 
A long history of land reform failure came under the spotlight this week in parliament, where MPs debated expropriation of land without compensation. Most experts believe a new approach is needed to ensure sustainable agriculture.
Diemersfontein vineyards supervisor Tholine Samuels said ownership had given her and her staff a new lease on life. "The vineyard is my child, my baby. If I mess up in the vineyard then they won't get a good harvest. But I don't need a boss looking over my shoulder."
Western Cape premier Alan Winde this week welcomed the "historic deal" on the farm. "Diemersfontein, for a number of years now, has been a benchmark of the power of transformation in the wine industry, and this announcement takes the work they have done to empower their staff even further. "We wish them all the success in the years ahead," Winde said.
THIS ARTICLE WAS ORIGINALLY PUBLISHED IN THE SUNDAY TIMES ON 28 MARCH 2021.