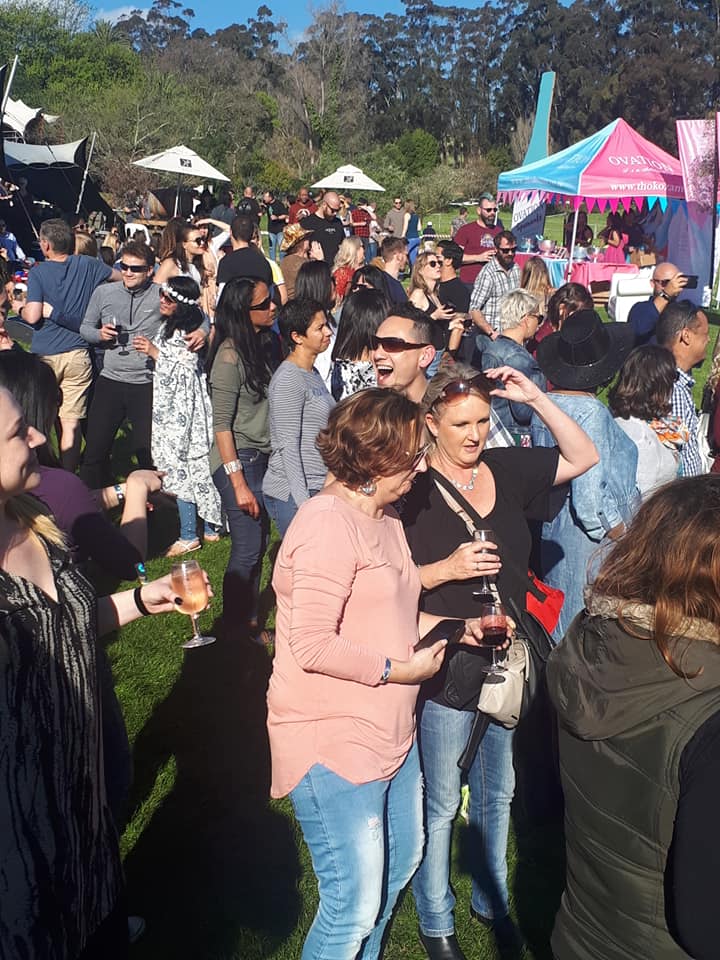 DIEMERSFONTEIN WINES THROWS THE ULTIMATE WINE PARTY!
Diemersfontein Wines & the organisers of Pinotage On Tap (aka "POT") are possibly still on a high after the enormous success of the Cape Town leg of their highly popular annual road trip of events (of the same name), held last Saturday on Diemersfonteins' own home turf.
The weather was incredible – as if pre-ordered online to ensure that that box was also ticked. From there on the vibes, wine, food, music and service excellence only escalated throughout the traditional half-day event, culminating in what was predicted as a "sensory detonation"! Definitely the most appropriate description for the day, given that the likes of top South African mega-band Freshlyground had every individual off their feet and singing along in unison – to Zolani's live rendition of "waka-waka" (our South African 2010 World Cup anthem song) – and many more. Our reporter was amongst the crowd and explained that the atmosphere became tangible, giving you a lump in the throat and the feeling plainly described as "gooseflesh stuff".
In comparison to previous years' events, the framework of this event has not changed much in that guests still get to enjoy what have become "iconic features" of this event. They include endless Pinotage (the famous and Original Coffee Chocolate one produced by Diemersfontein Wines) flowing in abundance from numerous oak barrels, that have been strategically placed around the event area. Together with that, each guest receives a signature gift on arrival, and this year the gift grew in value as each entrant received a branded lunch cooler-bag stuffed with treats, water and other promotional goodies.
Then of course there's the live-band experience, except this year organisers stepped up the offering there too, in roping in some of the most prestigious bands South Africa has to offer, namely Freshlyground, Stone Jets and Jesse Clegg. (various intro bands play at each event nationally, but Freshlyground features as the 2018 main band at every event). Freshlyground happened to play at the very first Pinotage On Tap event held 14 years ago, making this event an extra special one to all concerned.
Additional attractions of the event included wine-pairing workshops, (provided by Montagu Dried Fruit and Nuts), Giant Jenga, free photobooth and VIP lounge (provided by Aramex), competitions, premium food traders, a massive chocolate fountain with mountains of strawberries and marshmallows, beer traders, games and even more.
Frequent guests to this event, also known as "Potters" have learnt to expect an extra surprize – but this year exceeded those expectations. "This event has got so much character, but there will always be an element of greater surprise and value in attending POT." said Dawn Arendse, event Coordinator.
Pinotage On Tap Cape Town marks the third of four national events, and the last will take place in Clarens on the 3rd of November 2018.
Pinotage On Tap was awarded the title of the "Best Wine Event in the World" by Drinks International in 2014. Together with this accolade came the interest of more sponsors who delight in the opportunity to also showcase their brands and products at these esteemed events. Therefore, some well-known brands such as Berg River Breweries (Paarl), Aramex, Montague Dried Fruit & Nuts, Pura Beverages and Roses Handmade Confectionary, all come on board to add even more value to the event offerings on the day.