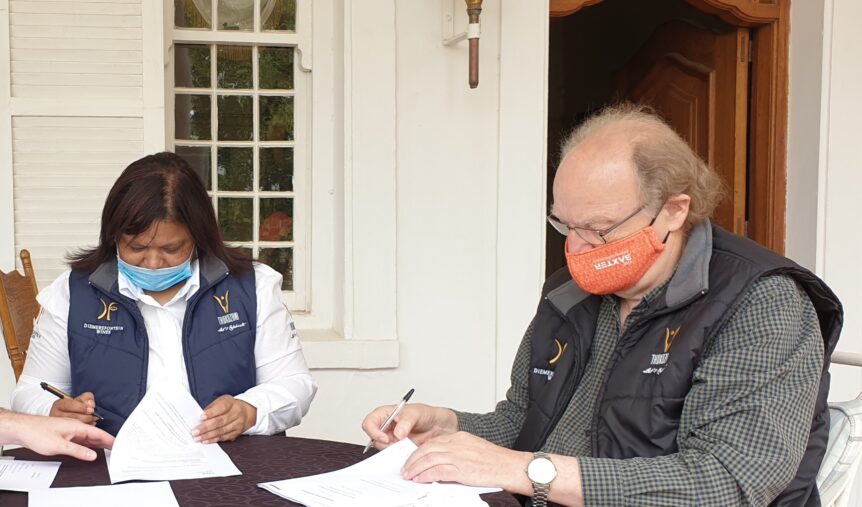 Diemersfontein shareholding creates better future for staff and school
Thokozani Staff Holdings, owned by 65 employees of Diemersfontein Wine and Country Estate in Wellington, recently bought fifty five percent (55%) shareholding in Diemersfontein Wines, the trading company of the Estate.
This is the next step in the transformation and development of Thokozani, an empowerment venture between Diemersfontein's owners, David and Sue Sonnenberg and the employees on the farm.
"It is with joy and confidence in our team as a whole that we announce this acquisition by Thokozani as a notable milestone in our long journey towards responsible transformation, and it reflects the continuity of our activities and interests since the formation of our brand," says David Sonnenberg.
The Sonnenbergs started producing wines on their return to South Africa two decades ago and ushers in their 21st vintage this year. Diemersfontein is known for its coffee/chocolate Pinotage and have been producing award-winning wines over the years. Their business model also includes property development and hospitality as separate entities.
Thokozani was developed on a similar business model, with their own wine brand and guest houses. They also manage the conference facilities on the Estate.
"Diemersfontein and Thokozani have been running in parallel because you cannot build a business without building the team", says Denise Stubbs, Managing Director of Thokozani.
Developing the staff's expertise and skills is key to Thokozani's success.
"Our transformation journey has always been about bringing real change to people's lives. It is crucial to focus on training and development as an absolute necessity to achieve sustainable economic empowerment of our employees", says Denise.
This shareholding deal tips the scale even further towards a sustainable and growing enterprise and securing the financial future of the shareholders.
"Being the majority shareholder of the Diemersfontein brand means becoming part of the bigger family who will benefit from the Sonnenberg's legacy, says Denise. This purchase is a significant change in the history of the South African wine industry. It will change the life of every shareholder", says Denise.
Building capacity at board level
Diemersfontein Wines expanded their board with the appointment of Denise Stubbs as Business Development Director and Mike Knutsen as Finance Director. "Being appointed as a Director of Diemersfontein Wines is a huge responsibility and requires much dedication and commitment," says Denise.
Hilary Brinkhuis, Logistics and Export Manager and Board member of Thokozani Staff Holdings for the last six years says, "It's an amazing opportunity for my personal growth. The shareholding purchase is true empowerment, allowing our staff to reach our full potential and achieve financial independence. We are committed to building the business".
Investing in education
Wellington Preparatory School and College was established on the Estate in 2004 and offers high end education in small classes. It will produce its first Grade 12 class in 2022.   The student body is diverse and consists of learners from all backgrounds in Wellington and surrounds, as well as from families living on the Diemersfontein Residential Estate.   The Sonnenberg's support for the school has now led to the establishment of The Diemersfontein Educational Trust, which will own equity in Diemersfontein Wines.  Proceeds will contribute to school fees for leaners whose parents need financial support.
Video link – interview with shareholders for further background information and use on digital platforms https://drive.google.com/drive/folders/1Pqs7HCcJ_7vMSGobimCNfs7pMlUw5OdR?usp=sharing