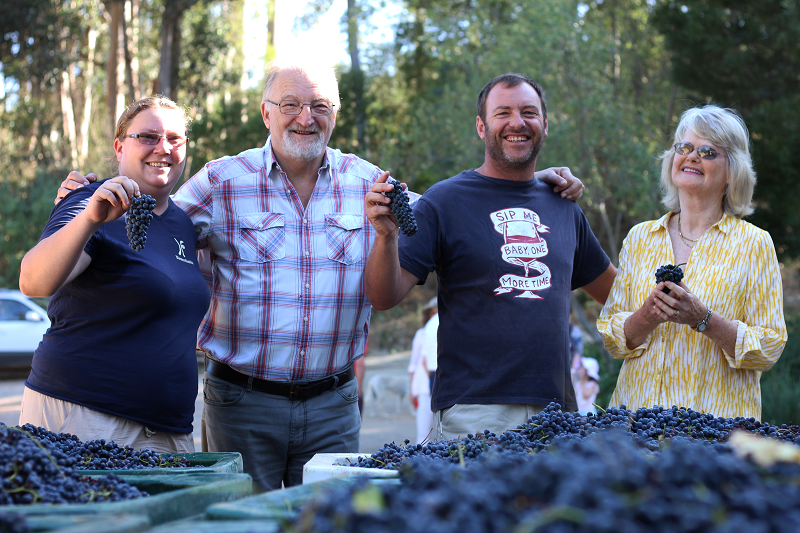 DIEMERSFONTEIN CELEBRATES 21ST VINTAGE WITH NEW LIMITED-EDITION WINE
South Africa, Wellington, June 2021: Diemersfontein Wines has come of age, this year marking its 21st vintage and more than two decades of iconic excellence in wine. To commemorate the event, the estate is preparing a limited-edition wine exclusively available from the farm and its e-store.
The birthday wine is a Shiraz-dominant blend called 21 and is exclusively available from Diemersfontein's tasting room, PROE deli and online store. In addition, its release is supported by a special offer on Diemersfontein Pinotage until August.
"It has been quite a journey," declares David Sonnenberg, who launched the enterprise with his wife, Susan, on their return from London in 2000. "The coming-of-age occasion allows us to consider how Diemersfontein has matured into early adulthood; how it began with its endowments of special soils and, how it now hopefully reflects an authentic representation of our collective value systems as its custodians over the last few generations."
For three generations the Sonnenberg family has created Diemersfontein moments on this iconic estate in Wellington. What started as a family retreat, is today the home of the world-class Diemersfontein and Thokozani ranges of wines and country hospitality, backed by a story of upliftment and empowerment.
A leading light
The milestone of its 21st vintage places special emphasis on the wines, which came about thanks to the urging of the then foremost viticulturist in South Africa, the late Professor Eben Archer.
"I still have his letter, which has kept me motivated," says David. "The soils essentially drove the decision to pursue our own wine."
The property already had some vineyards at that point. In fact, Diemersfontein's oldest block, 35-year-old Chenin blanc, qualified this year to be certified as part of South Africa's Old Vine Project. The birth of the Diemersfontein brand however, set it on a completely new trajectory.
Within a year of producing its first Pinotage, Diemersfontein had pinned its colours to the mast. The wine received a trophy at the Young Wine Show and a spot among the ABSA Top 10 Pinotage wines. A second major award came in 2005, when it won Best Producer at the Old Mutual Trophy Wine Show.
With the overwhelming success of its Coffee Chocolate Pinotage – a wine that spawned an entire category – Diemersfontein had uncovered how well its soils were suited to the variety. Several Pinotage expressions were added to the portfolio.
But there was more to come, as Diemersfontein's Bordeaux varieties began making headlines thanks to consistent awards at leading local and international wine competitions. Shining lights among them have been the Malbec and Cabernet Sauvignon.
Wine lovers overseas have also embraced the wines and exports continue to grow.
"In France, our Thokozani Rhone Blend (SMV) is one of the top performers. For any winery, it is wonderful to be accepted in that market," says David. "We also cherish many deep relationships such as that with our Swiss importer, who we've known since 2003."
Other countries enjoying Diemersfontein's focus include Germany, Australia, UK, US, Belgium and Sweden.
The people behind the brand
David is quick to point out that Diemersfontein's identity is very much linked to people and their personal development. "It has been a talented team that shaped Diemersfontein's evolution in wine," he says.
The first winemaker, Bertus Fourie was here for five years. It was his innovation that created the Coffee Chocolate Pinotage. He was followed by Brett Rightford, whose white wines excelled during his five-year tenure. In the early 2000s, current cellarmaster, Francois Roode, came on board, tending the wines to maturity.
Francois is joined in the cellar by Lauren Hulsman, whose first attempt at "flying solo" saw her Thokozani Cabernet Franc take top honours in its category at the 2021 National Wine Challenge/Top 100 SA Wines.
The Diemersfontein focus on people has also defined other parts of the multi-layered enterprise. Among most recent highlights are
A historic deal in February that saw the transfer of majority shareholding in Diemersfontein Wines to Thokozani Staff Holdings – an employee empowerment venture.
The imminent graduation next year of the first Grade 12 class from the Wellington Preparatory School and College, established on the estate in 2004. In addition, the establishment this year of the Diemersfontein Educational Trust that will fund scholarships via a portion of wine sales.
Contributing to the development and funding of opera and training of opera singers in South Africa, as well as emerging artists, through initiatives such as its Harlequin and The Prodigy wines.
"Diemersfontein brand has been hard work, but we've had great fun in creating it – I am so proud of it and its people," says David. "Now, it's time to start looking at its future."
Get the wine, share the experience
The limited-edition Diemersfontein 21 is available for R60/bottle and the Diemersfontein Pinotage, R99/bottle. While both are available from the estate, the Pinotage is available together with the rest of the Diemersfontein and Thokozani portfolio, at leading retailers around the country.
Place orders with the online store www.diemersfontein.co.za and have wine delivered to your door.
The Diemersfontein Tasting Room is open every day, from 10:00 to 17:00 Among its other offerings are the family-friendly PROE deli; guesthouse with 30 en-suite rooms; and, conference and wedding venue.
Diemersfontein Wine and Country Estate is situated off Jan van Riebeeck Drive (R301). For more information call 021 864 5050, send an email to welcome@diemersfontein.co.za, visit www.diemersfontein.co.za or make contact via @diemersfontein on Facebook, Twitter and Instagram.