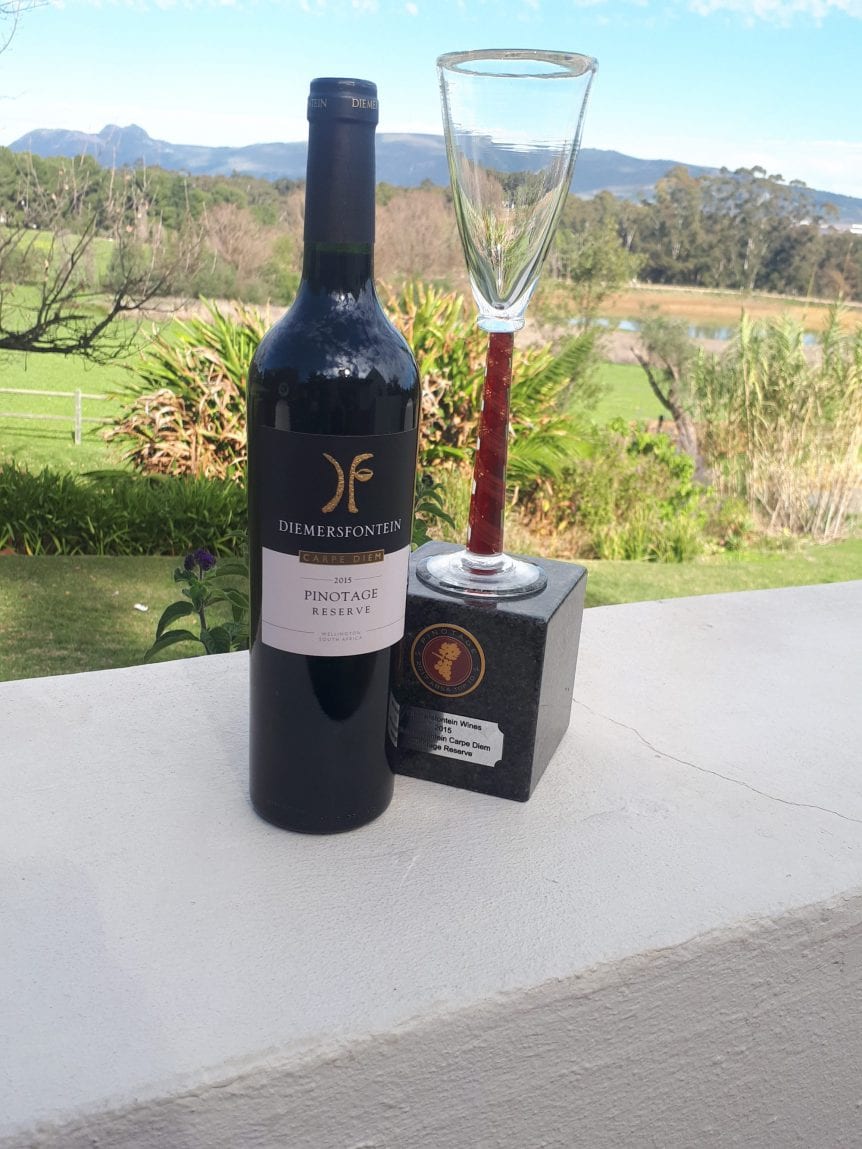 ALL ROUND DELIGHT AS OUR DIEMERSFONTEIN CARPE DIEM WINES SHINE BRIGHT
It's been a week of thrills and delight on the estate in Wellington after we scooped up not one, but two coveted trophies for two different wines in our flagship Carpe Diem range. First the Diemersfontein Carpe Diem Malbec 2015 shone bright at the Novare SA Terroir awards when it was crowned the national winner in the Malbec category and then our Diemersfontein Carpe Diem Pinotage 2015 walked away with a place in the ABSA Top10 Pinotage competition for 2017, announced at the prestigious Cavalli estate on 3 August. This was just the beginning of even more good things to come.
The Diemersfontein Carpe Diem Pinotage is no stranger in the Top 10 line up and was also on the list in 2009 with the 2007 vintage. Unlike its more rebellious, coffee loving sister the Diemersfontein Pinotage, that was part of the ABSA Top 10 line up in 2001, this wine is made in a more classic style with inviting flavours of raspberries, cherries and plums.
The Diemersfontein Carpe Diem Malbec on the other hand, boasts with a decadent blend of berries and plums, yielding to subtle liquorice and cherry tobacco aromas. The fact that the Diemersfontein Carpe Diem Malbec won Top Malbec for the second time since 2013, accentuates that Wellington terroir is very well suited for the production of this French varietal, as the Novare SA Terroir Wine Awards aims to honour the wines which truly portray South Africa's different wine growing areas.
"Quest for the Best" is a competition initiated for 100% Wellington wines by Wellington, celebrating the wine district's quest to showcase the overall quality and diversity of the Wine of Origin Wellington. At the 2017 awards ceremony three of the Diemersfontein wines ended up in the Top 12 wines at the event. The Diemersfontein Carpe Diem Malbec 2015, Diemersfontein Carpe Diem Viognier 2015 as well as the Diemersfontein 'Woolworths' Coffee Pinotage 2015 were all rated as some of the top wines from this prestigious region.
When Diemersfontein owners, David and Sue Sonnenberg, decided to start a wine business on their family farm, after the age of fifty, they were truly 'seizing the day'. The Diemersfontein Carpe Diem range tryly reflects this dream of making world class innovative wines from Wellington. We invite you to seize the day and raise a glass of these momentous wines with us in saluting our winemaker, Francois Roode and his team on producing wines that make us all just a little more joyful every day.
Get your Diemersfontein Carpe Diem wines now by visiting our shop.