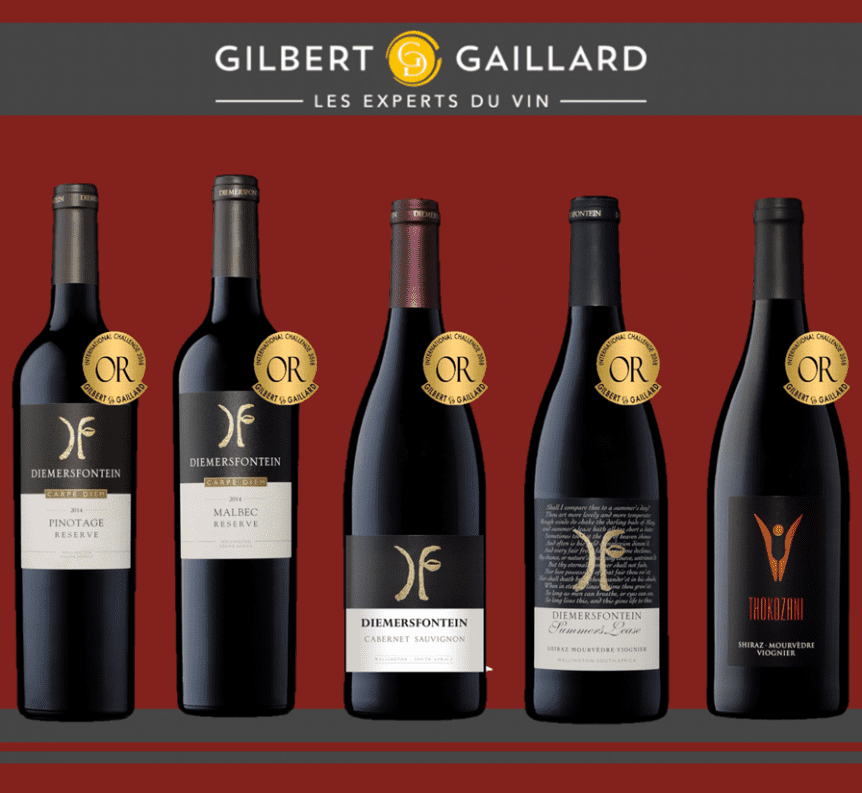 5 GOLD MEDALS IN THE FRENCH WINE GUIDE, GILBERT & GAILLARD
The Gilbert & Gaillard group is dedicated to promoting and recommending quality wines mirroring the expertise of passionate men and women and encapsulating sense of place. This guide is an essential reference for professionals and wine lovers from all over the world. Therefore it was a very easy decision to enter our wines to get rated for this well-respected French wine guide this year.
We entered a total of six wines and were elated when we received the results of the tasting this past week. Five of the wines we entered received gold medals which means that they scored a minimum of 85 points out of a possible 100.
The Diemersfontein Carpe Diem Pinotage – and Malbec 2016, firm favourites in most competitions we enter, scored 89 and 87 points respectively. 'A dynamic, compelling wine' was the description that ended off the tasting notes received for the Malbec, and we cannot agree more.
The niche Rhône-style blend, Diemersfontein Summer's Lease 2016, described as a 'wine with character' by the judges received 86 points, the same score that the Diemersfontein Cabernet Sauvignon 2016 were stamped with.
Our empowerment brand, Thokozani, owned by the staff of Diemersfontein produce a beautiful Shiraz, Mouvedré and Viognier blend and the 2016 vintage was the last wine to be awarded a gold medal when the wine scored 85 points.
To be recognised in this manner by such a prestigious group like Gilbert & Gaillard, that's been around since 1989, is a very big honour and proves that our wines can compete with wine from all over the globe.
If you would like to purchase any of these wines, you can visit our online shop on www.diemersfontein.co.za or contact marketing3@diemersfontein.co.za. Alternatively visit our tasting room in Wellington for Winelands hospitality at its best.